Welcome to Lerwick Community Council Website.


With the exception of August, Lerwick Community Council meet at 7pm on the first Monday of each month in the Town Hall Chamber, Town Hall, Lerwick.
Lerwick Community Council consist of 16 elected members, up to 7 ex-officio members and may appoint up to 6 additional co-opted members.
What does Lerwick Community Council Do?
Lerwick Community Council acts as an advocate for the Lerwick Community.
Any member of the public can write to their Community Council with any issues or concerns that they have. Their letter will be raised and discussed during a meeting and an attempt will be made to solve any concerns in a way which is fair to all.
When particular issues arises (for example recent concerns about the proposed new AHS), an invitation is extended to the relevant official to make a presentation at a Lerwick Community Council meeting and concerns are discussed in detail.
Lerwick Community Council can also offer grant funding to groups or bodies in the Lerwick area.
Historically it has also provided funding to assist with the Floral Basket and Bunting & Banner Scheme and Lerwick Fireworks display on an annual basis. In addition, Lerwick Community Council maintains and pays for the floodlighting at Clickimin Broch.
Community Council Objective-The Local Government (Scotland) Act 1973 states that "the general purpose of a community council shall be to ascertain, co-ordinate and express to the local authorities for its area, and to public authorities, the views of the community which it represents, in relation to matters for which those authorities are responsible, and to take such action in the interests of that community as appears to it to be expedient and practicable."
Community Councils play an important role in local democracy by representing local views which can influence decisions in planning and the provision of local services. The Community Councils provide an effective, strong voice within each community area offering sound, local advice on a range of community issues.
Shetland Islands Council consults and depends on information and views from Community Councils and these are used in shaping local authority policies. Community Councils are regularly consulted by other public agencies on a wide range of community related issues.
The Community Councils are regularly consulted by most public and many voluntary organisations, thus representing local views on community related issues.
Lerwick Community Council meets the first Monday of the month, except August, and Special meetings are held as and when required to allow the discussion of any larger or controversial issues. All meetings are, normally, held at Lerwick Town Hall, where members of the public are entitled to attend and observe proceedings.
Agendas and minutes of Lerwick Community Council meeting are displayed in the window of the office at Stouts Court, Lerwick and are also available on this website at Agendas & Minutes.
---
Financial Assistance Now Available for 2018/19
Applications for financial assistance are now invited from local community groups and for projects which will principally benefit the Lerwick community. Please click on our News section for full details
---
We have provided some information on the site in the form of downloadable minutes, grant forms and dates.
We have Town Hall Guides for sale which cost £4.50 with a charge of £1.00 postage and packing, cheque payments only. Cheques should be made payable to Lerwick Community Council and posted along with your order and postal details to Lerwick Community Council, c/o 12 Twageos road, Lerwick, ZE1 OBB.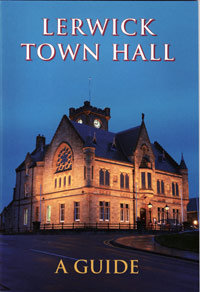 To contact the Community Council please e-mail
Ms Frances Valente, Clerk, Lerwick Community Council at
clerk@lerwickcc.org.uk
or Telephone 07769750497
also
Chairman at
chair@lerwickcc.org.uk
or Telephone 07803 342304.